2019 Spots are Filled Up. Thank you to all of our wonderful Hostesses for this year. .
You may be wondering,
What is a potting party?
A Potting Party at Sandy Ridge Farms formally Annual Ambiance is an opportunity to plant your patio containers with the assistance of our trained container artistes before anybody else in your neighborhood has even thought about spring. This is your chance to enjoy planting your beautiful containers, without having to worry about any of the cleanup. Sandy Ridge Farms provides quality plants, soil (top quality Canadian Sphagnum moss potting soil with time release fertilizer, this is the same soil we use in our 90,000 square foot production greenhouse), and the assistance of our container artists to help you design the best container combination for this coming summer. Once your containers are planted we will care for them until May when it is warm enough for them to move outdoors, all you do is back your vehicle up to the greenhouse and take your beautiful containers home to enjoy all summer long.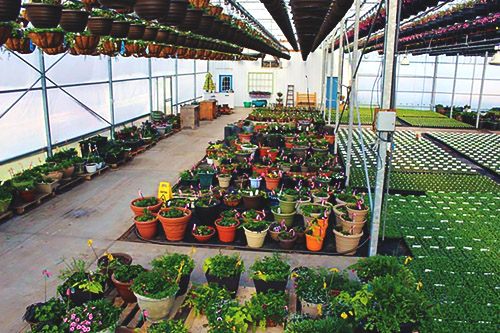 Potting Parties are meant to be a low stress opportunity to spend time with friends and family while playing in the dirt before anybody else gets to. What could be better than spending a couple of hours with some good friends amongst growing plants on a chilly March evening? We encourage hostesses to bring appetizers and beverages of their choice, along with some fun loving friends to spend the evening with.
Come have fun, leave the work up to us!
What is a potting Party?
A potting party is where customers come to plant their spring, fall, and winter planters. Customers bring their empty planter and can choose from a variety of plants to place in their container. Sandy Ridge Farms will keep your spring planter and help it grow by watering and fertilizing them until they are ready for pick up usually by Mother's Day. Fall and Winter parties customers are able to take their planter home that night.
How much is it?
Depending on the size of the planter and what plants you are looking to add; an average 13"planter starts at $25. You pay per plant, and per scoop of soil that you would need in your planter. We do have a few different planters here that you can purchase as well if you want new ones.
Can you plant my containers for me?
We sure can. Tell us what kind of flowers you are thinking about putting into your container Then drop off your container and we can plant it for you. We would need to know where the planters are going to be located at your house; full sun, partial sun, or shade. We don't want you to have the wrong type of plants that will not grow.
If you would like to host a party of your own give us a call. We are looking at Spring 2020!
If you have questions contact Sarah at (616) 875-2260 or click here to email us.
Also, hostesses we would love to see some of the pictures you took during your parties. You might even see yourselves right here when you return. If you would like to share your pictures with us you can post them on our Annual Ambiance Facebook page.
Would You Like to Host a Potting Party?