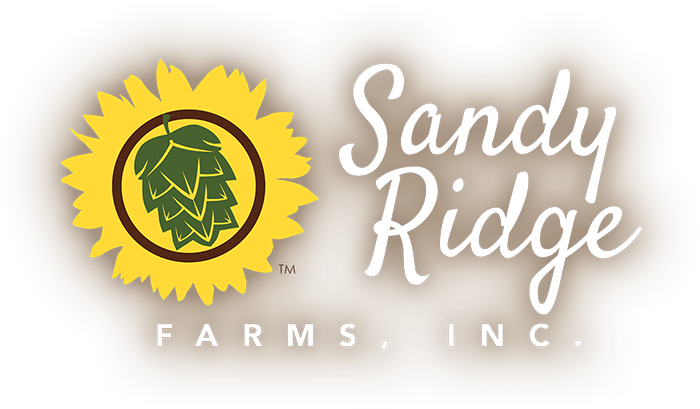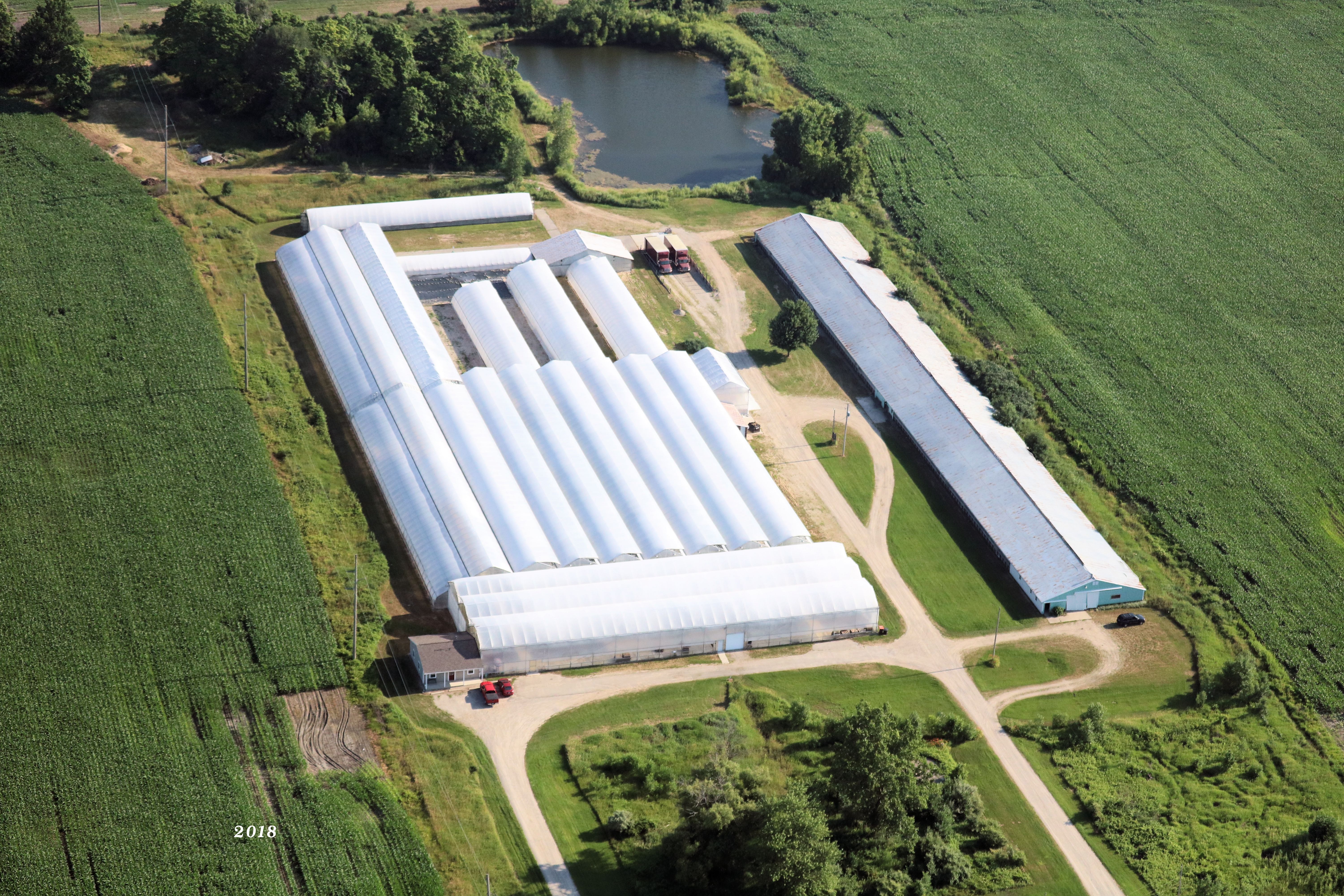 Photo Taken By Mark Howel Air Photography
Triple Pearl
Triple Pearl is a triploid daughter of Perle that was released by USDA-ARS in late 2013. Pleasant, mellow aroma with notes of orange-citrus, orange rind/zest, melon, resin, spicy and slight pepper.
Cascade
With a medium strength and aroma that provides a unique floral/spicy character with well balanced bittering potential, Cascade is the most popular hop with the U.S. craft brewing industry.
Sorachi Ace
This Japanese variety has a bold Lemon aroma and taste with maybe a dill, cilantro, and coconut notes to it too and a slight background oak flavor.
Welcome to Sandy Ridge Farms- a three generation agricultural family farm! Over 60 years ago, Sandy Ridge was established when our father and grandfather purchased 40 acres of land to raise cattle and poultry, including turkeys, chickens, and ducks. In the 1980's, pigs were introduced for a short time. The cattle herd diminished in the mid-90's as more emphasis was placed on raising turkeys locally in Zeeland. In an effort to meet a growing demand, we raised 81,000 turkeys annually (on three separate farms) to feed West Michigan and beyond.
As turkeys roamed the farm, a gardening passion also bloomed and a small greenhouse was added. This venture, which started as a hobby by Mary, gradually grew into two greenhouses as spring annuals were grown and sold to family and friends. In 2000, when the turkey industry in West Michigan experienced a downturn, it was decided to convert the turkey barns into greenhouses. Since then, there has been no looking back!
Throughout the years, two constant values have been woven through the fabric of our farm. First, we take pride in treating our employees and customers like family. Of equal importance is our commitment to produce the finest quality product possible. Over the past sixty years on our family farm, youth have been mentored, high-quality turkeys have been raised, and beautiful plants have been grown.
Whether for a customer purchasing a large quantity or for an individual desiring a single plant, Sandy Ridge ensures the same meticulous care has been given to promote plant health and customer enjoyment.
Our most recent advancement includes the introduction of starter hops into our product line-up. Over the past ten years, relationships with regional universities have been created and protocols developed to maintain clean and disease-free stock plants. As a result, we are able to produce and disperse the highest quality of hop plants for home brewers and commercial hop growers alike. Good Agricultural Practices (GAP) protocols are strictly implemented and continually examined and revised. This allows our customers the assurance that they are receiving high quality plants at a reasonable price.
Thank you for your interest in our farm's history and welcome into our family of customers!